Drop off & Pick up: Linne Doran: Duvall, WA
$975
Includes T-shirt and Water Taxi
Scheduled to Return in 2022
"My daughter absolutely LOVED the camp and is very excited to return.  She specifically mentioned how the instructors showed confidence and trust in her and her abilities and how that really made her feel capable and highly engaged."
– Mother of 13-year-old camper
"My son said that he felt "whole" when he was at camp, spending time outdoors and making deep connections with staff and campers."
– Christine W., mother of 15-year-old
"My son absolutely loves this camp!  Of all the ones he's attended the past couple of summers, this is by far his favorite.  As a parent, I really appreciate the staff's attentiveness to his particular interests and finding ways to encourage and expand them."
-Donna, mother of Levi (age 13)
"I loved this camp and it was one of the best experiences I've ever had. Thanks to all the Wilderness awareness staff and volunteers, I will definitely be returning next year!"
– Jessica C.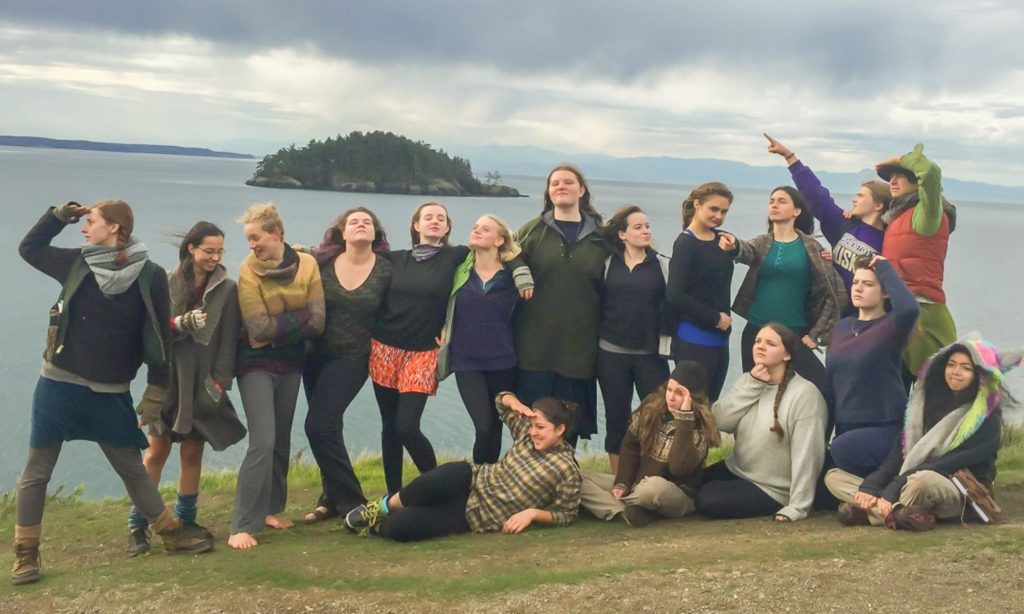 Unfortunately, due to COVID-19 safety measures, we will not be holding this program in 2021. We do plan to bring back this popular program in 2022.
Adventure with a group of mature teens out to explore along the Salish Sea Coast. We will travel from Duvall, WA by van and ferry to our field location on a roadless island in the San Juan Islands. Teens will backpack all their food and gear into our remote coastal camp.
The Salish Sea Coast Expedition gives teens the opportunity not just to learn to survive, but to thrive in a marine environment as a community. Participants experience the gifts that each person brings to the community and the gifts the natural world offers to us.
During the weeklong adventure, teens will:
Cook and prepare their own food
Learn coastal wild edibles, as appropriate for safe and sustainable harvest at the time (may include shellfish)
Travel light and learn low impact camping in wild places
Tan fish hides and work on coastal crafts
Learn ancient and modern coastal navigation techniques, including celestial bodies and compass
Explore tide pools and track coastal wildlife
Experience deep connection with the coast
Connect with new friends!
Our instructional team features:
A 1:8 staff-student ratio
On-site director and volunteers who offer additional instructor support
Staff trained as Coyote Mentors, a widely-respected educational philosophy developed at the Wilderness Awareness School
Compassionate educators who encourage each child's respect for self, others and nature
Experienced Wilderness First Aid and CPR certified professionals
Important Notes
Living in the Wild
We will spend nights in the woods without tents, using small group tarp shelters or sleeping out under the stars. We will be carrying all our gear backpacking style for up to several miles. Campers must be mentally and physically prepared for this challenge.