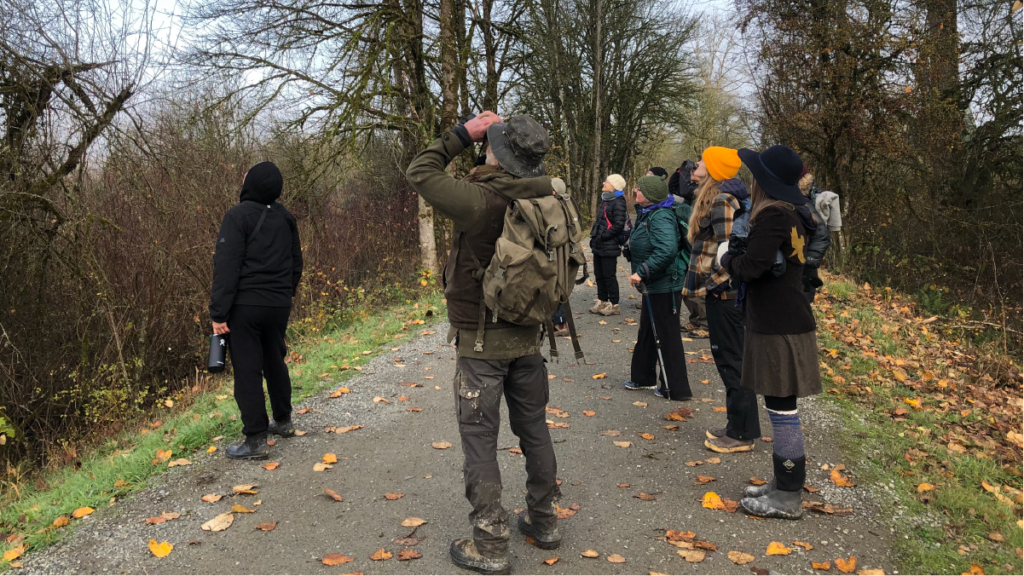 Bird Language Club will return in the Fall of 2022! Check back for future dates and locations.
Join us for fun-filled mornings of community learning as we explore local natural areas through the language of the birds! 
Bird Language is an ancient interspecies communication system known to all our ancestors and still accessible to us today. To learn bird language is to tap into events occurring across entire landscapes, including which predators are present and where.
Bird Language club will introduce you to bird vocalizations and behavior using cutting edge methods from the Bird Language Leaders movement designed by Jon Young, including:
The Five Voices of the Birds
Interpreting Shapes of Alarm
Deep Sensory Awareness and Natural Movement
Mapping Bird Language
Storytelling and Dynamic Sensory and Memory Skills
Each meeting will include a brief introduction to bird language followed by a group bird sit, collaborative debrief, and a bird walk focusing on listening, observations, and questioning to lead to deeper learning. Beginning and experienced birders welcome!
Bird Language Club is FREE! There is no registration process; just show up. We will meet in any weather except for steady, heavy rain or snow/ice. Bring what you need to be comfortable outside all morning, including water, snacks, notebook & pencil (write-in-rain is ideal), sit-pad, binoculars if you have them, and layers/footwear appropriate for the weather and walking/sitting off-trail in muddy/wet areas. Class runs from 8am – 11am, but please arrive by 7:45 to get oriented. Please carpool if possible; parking is limited!
Bird Language club is geared towards adults and mature teens, though all ages and families are welcome. Minors must be accompanied by an adult.
Please direct questions about Bird Language Club to our Coordinator Heather Durham at heatherd@wildernessawareness.org.
Bird Language Club meets at the following locations at 7:45 a.m.
Fall of 2023 Dates – TBD
Health Checks
Please note that you may be required to wear face coverings during class. See our Covid page for the most up-to-date information.

Participants are required to perform AT HOME health checks in the morning before coming to a club event.

Please perform the following procedure AT HOME:
Do you have any of the following symptoms within the past day that are not caused by another condition?

Fever (100.4F) or chills
Cough
Shortness of breath or difficulty breathing
Fatigue
Muscle or body aches
Headache
Recent loss of taste or smell
Sore throat
Congestion or runny nose
Nausea or vomiting
Diarrhea

If you are not fully vaccinated, have you been in close contact with anyone with confirmed COVID-19 within the past 14 days?
Have you had a positive COVID-19 test for active virus in the past 10 days, or are you awaiting results of a COVID-19 test due to possible exposure or symptoms and not through routine asymptomatic COVID-19 screening or surveillance testing?
Within the past 14 days, has a public health or medical professional told you to self-monitor, self-isolate, or self-quarantine because of concerns about COVID-19 infection?
If you have any symptoms listed above or answers "Yes" to any questions, you may not attend the club at this time. If you have questions, please call the office at 425-788-1301. We will continue to follow the most up-to-date requirements as found in the Dept of Health Guidelines.