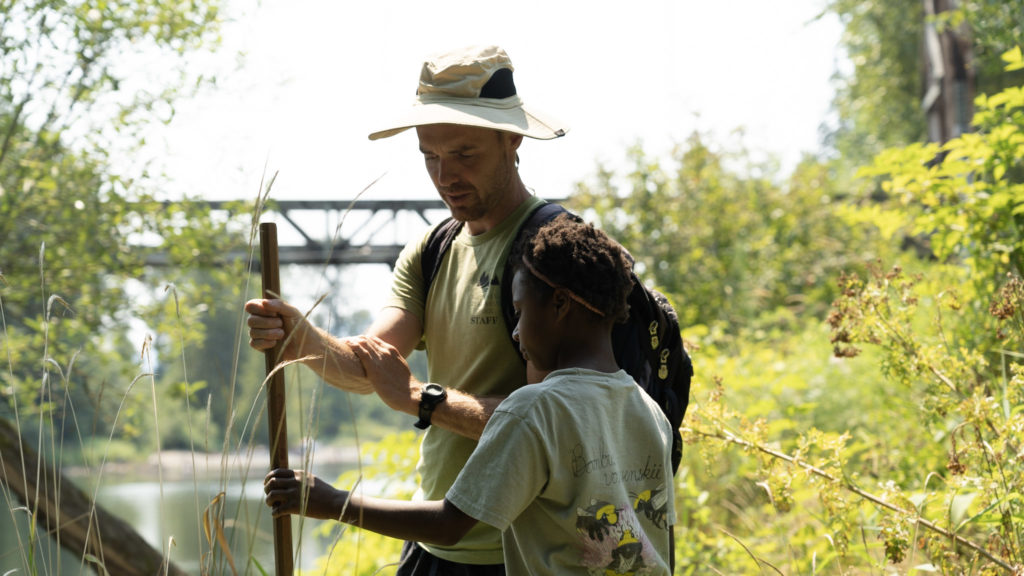 Join us this summer as a Summer Camp Instructor!
Make a difference by helping kids connect with the natural world
Learn to be a Nature Instructor and ignite kid's passion, gifts, and curiosity
Join our team of deeply skilled and experienced nature mentors
Be part of the Wilderness Awareness School mission to help children and adults cultivate healthy relationships with nature, community, and self.
Our Teaching Philosophy
Our unique teaching style, "Coyote Mentoring", utilizes a number of strategies that mimic how children naturally learn. The end result is something of an "invisible school" where kids experience having fun and playing games without even realizing how much they're learning. We actually wrote the book on it: Coyotes Guide to Connecting with Nature.
Nature Connection
Children's lives are becoming more and more screen-based and lived indoors. Wild spaces are shrinking and our impact on the planet is reaching a breaking point. It is more urgent than ever for people of all ages and backgrounds, especially children, to experience and fall in love with the natural world.
Become a Nature Instructor
In the quickly growing industry of Forest Kindergartens and nature-based education, there is an increasing need for skilled, diverse, and experienced instructors. As one of the oldest and most respected nature schools, many of our students and staff have gone on to become leaders in the industry.
We strive to have a diverse population of staff that represents the students we work with because we recognize the importance of representation in creating a safer space for all children to come outside.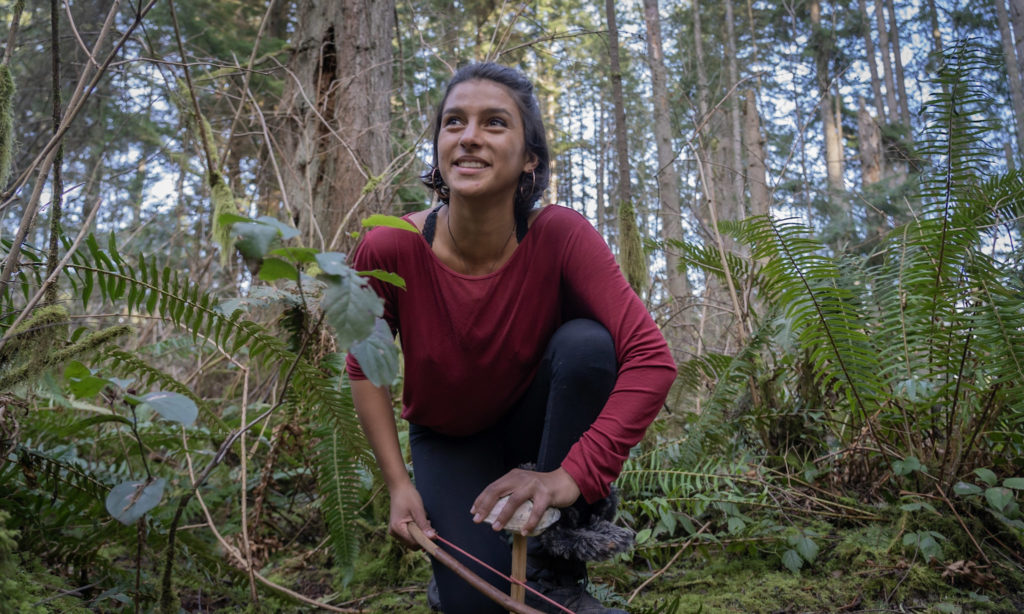 A Day in the Life of a Nature Instructor
Monday through Friday: At 8:00 am you will meet with your Director, Volunteers, and other Nature Instructors to check in about the day ahead
The Campers will arrive with their parents at 9:00 am and be invited to join a big game or nature museum with you or another Nature Instructor
Around 9:30 am everyone will gather for morning circle to kick off the day, hear a story, and sing together
After morning circle, your group of 10-11 campers and 1 volunteer will explore different parts of the park playing games, learning about local flora and fauna, and discovering each other's gifts and passions
You and your group will have input on the plan for the day, either meeting up with other instructors to play bigger group games or having another wander or going for an afternoon hike
By 2:30 pm everyone is back in the large closing circle to share exciting stories of the day
Parents will come to pick up their campers at 3:00 pm
Around 3:15 pm you will reconnect with your Director, Nature Instructors, and Volunteers to check in about the day's highlights and debrief any challenging situations
Qualifications and Expectations
Creativity and passion for mentoring youth in a natural flow learning environment with an open and flexible structure
Care about equity and diversity as well as creating a welcoming and inclusive space for all
Current Wilderness First Aid

and

CPR certifications (or able to acquire before working). We are planning to host our own WFA training in early June which would be available to staff at a discounted price.
Able to supervise up to 11 kids at a time with minimal support or supervision
Able to work at least 5 weeks of camps, in addition to a week of staff training
Able to drive to various camp locations in the Seattle area, many of which aren't accessible by public transportation (We offer travel stipends to staff for certain locations and distances traveled)
Minimum age of 18 by June 14th, 2022
Able to pass a background check
Able to walk over varied terrain, in various weather conditions, carrying a backpack weighing up to 20 pounds for 6 hours a day
Must demonstrate good judgment and risk assessment
Have empathy, compassion, and an open mind
Strong ability to work as a contributing member of a team, able to bring your unique voice, gifts, and contributions to a relational work setting
Willing to participate in a healthy feedback culture
Meet the Washington State Vaccine Mandate for Educators
Be a professional adult: operate with responsibility, integrity, and timely communications

Uphold Wilderness Awareness School's mission and policies
Preference will be given to applicants who have
Experience as a naturalist instructor working with youth ages 5-18 in the outdoors
Experience with the 8-Shields Model and Coyote Mentoring method
Knowledge of Pacific Northwest hazards, mammals, tracking, edible/medicinal plants, navigation without map/compass, field ecology, trees, survival techniques, birds/birdsong, and history of local Indigenous Nations and right relations.
A diverse background
Knowledge and/or training in justice, equity, diversity, and inclusion work
Completed one or more Wilderness Awareness School programs
Locations
Beautiful State and local parks in the greater Seattle, WA area on Snoqualmie, Snohomish, Skykomish, and Duwamish traditional territories. Our current parks include:
Seward Park
St Edwards State Park
Cougar Mountain County Park
Tolt McDonald County Park
Carnation Farms
Linne Doran (Our 40-acre campus in Duvall)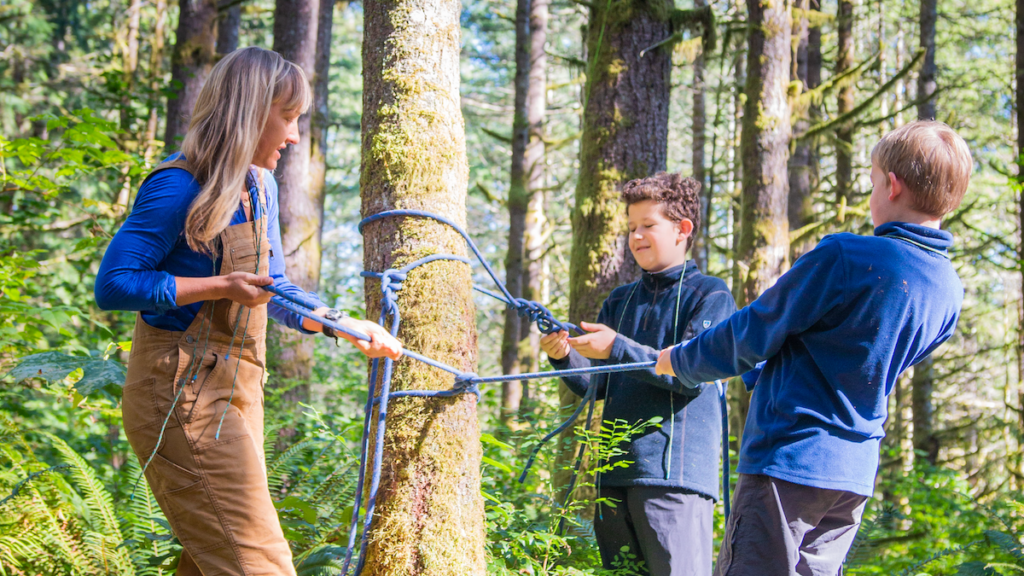 Work Hours
Monday to Friday – 8:00 am to 4:00 pm
Planning Week – Monday to Friday, June 13th – 17th, 2022 (Only staff that work certain camps are required)
Required for All: Staff Training Week: Monday, June 20 – Friday, June 24, 2022
Summer Camps run from – June 27 – August 26, 2022
Compensation/Benefits
Pay scale starts at $18/hour ($720 per week)
Paid training and access to many opportunities for additional development
Discounts on related programs and store items
Be a part of an amazing team of passionate people doing important work!
How to apply
Applying is an easy one-step process. Click the button below to complete the application:
Questions?
With any questions, please contact Nicole O'Byrne, Summer Program Manager at nicoleo@wildernessawareness.org